Amy Beth Williams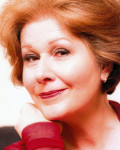 Amy Beth Williams's latest show is an exciting hour of risk-taking, a bravura display of artistic derring-do. She has us, in turn, fascinated, laughing delightedly, astonished, and moved to tears. In addition to being an exceptional singer and actress, she has become Amy Beth Williams the compleat entertainer and Amy Beth Williams the daredevil.
The theme of the show is love. "Love is a very wonderful thing" and "a very difficult thing" she tells us; it is the latter proposition that the evening is mainly concerned with. The first number is the show's title song, Leonard Cohen's "Crazy to Love You," about the toll that loving someone can take. She approaches this torment-filled lament with Dietrich-like composure. She follows this with Randy Bachman's "Undun," in which she gets physically and metaphorically undone. The pairing makes for quite an opening salvo.
Williams's rendition of "I'm All Right" (Walter Becker, Larry Klein, Madeleine Peyroux) is very funny, yet in it she deftly lets us know that she's not quite all right. Her take on two standards is not like anyone else's: she does "I Wanna Be Around" (Johnny Mercer, Sadie Vimmerstedt) with aquiet glee, which makes the song more sinister; similarly, her interpretation of Rodgers and Hammerstein's "I'm Gonna Wash That Man Right Outa My Hair" is darker than Nellie Forbush would have it, with a vein of seriousness running through it. In her performance of Marcella Puppini's "Jilted," Williams is a woman arguably on the verge of a nervous breakdown, while at the same time she is very witty about it—as though she were fearlessly dancing a jig on the edge of a precipice.
Considering the strength of her interpretive skills, one would readily accept a less-than-sublime voice, but Williams is also a superb singer. In French and English, "Autumn Leaves" (Joseph Kosma, Jacques Prévert, Johnny Mercer) is exquisite, "When October Goes" (Johnny Mercer, Barry Manilow) is hauntingly beautiful, and Rodgers and Hammerstein's "Some Enchanted Evening," sung a cappella, is pure, simple, and lovely.
In an evening filled with glorious work, perhaps the crowning glory is a trio of songs about being separated from one's loved one by the sea. "I Cover the Waterfront" (Edward Heyman, Johnny Green), which in Williams's hands is especially poetic, is juxtaposed with Teresa Tudury's "When the Wind Blows Up"—dramatic and poignant. This remarkable pairing is followed by the jewel in the crown, a heartbreaking, gorgeously acted interpretation of Janis Ian and Kye Fleming's "She Must Be Beautiful." The emotional impact of this segment is stunning. If the cover charge gave you only these three songs, you would consider it money well spent.
The show was directed by Tanya Moberly, Daryl Kojak is musical director, instrumental accompaniment is provided by Kojak on piano and Will Holshauser on accordion, and Jason Ellis is technical director. I raise a glass to all of them.
I closed my 2011 review of Williams by saying, "I grant that it would be premature to label Williams a great cabaret artist on the basis of this one show; let's see what the future brings." Well, no more shilly-shallying. Amy Beth Williams is a great cabaret artist.
"Crazy to Love You"
Don't Tell Mama  –  May 21, June 4, 13, 20, July 30, August 6
Original Review: http://bistroawards.com/amy-beth-williams-2/